Discover more from Hadley's Substack
My personal Substack
The Self-Starter's Guide to Internal Family Systems (IFS)
Get started with IFS on your own with this powerful tool that that's going to help you finally make sense of why you get triggered.
Quick intro for those of you new to the world of Internal Family Systems (IFS):
Think of IFS as a way to explore your own "inner family" – a dynamic cast of characters that make up your psyche.
Thanks for reading Hadley's Substack! Subscribe for free to receive new posts and support my work.
In this inner world, everyone has their role, from the hero to the comic relief. It's all about understanding these different aspects, or "parts," and how they influence your thoughts, feelings, and actions.
Typically, IFS is led by a coach or therapist. However, this free guide is here so you can dip your toes into the world of IFS to see if it's right for you before starting with a coach or therapist.
Get ready to embark on a journey of self-discovery, healing, and self-compassion. It's an adventure worth exploring!
Your Inner Adventure with Internal Family Systems (IFS) Begins
You look out at the beautiful yet unknown landscape of your inner world. This landscape was blasted open by something or someone that triggered you in your life. It might not feel good, but avoiding the trigger or trying to change it hasn't worked in the past so you're curious to try something different.
Instead, you approach the trigger as a trailhead, a starting point, a clue, an indication that something's up and there's a reason to investigate further.
You're game to see what more there is to discover and you lace up your hiking boots, grab your water, and start to create a map to guide you on your inner adventure.
Create Your Parts Map
In IFS, a parts map is used to help you understand and navigate your inner world more effectively by taking inventory of the different parts of you and documenting them in writing or drawing. This could just be simply creating a list in the notes app of your phone or drawing pictures on a piece of paper. It's not an exercise in how creative you are so choose whatever method of documentation feels the easiest. Remember that done is better than perfect!
I recommend you set aside at least 15 minutes to create your map because that shows your parts that you are here for them and ready to listen. If you have some resistance to that, that's okay because you can add that as a part to your map, too.
1. Prepare for the Journey
There might be a part of you that doesn't want to create a parts map. A part of you that wants to just read through this guide without actually immersing yourself in the process. That is normal and is a part of you that's worthy of attention.
And maybe there is a part of you that is gung-ho about this inner adventure and totally nerding out. Whatever comes up around the idea of creating parts map, go ahead and write that down first on your parts map.
There's not a wrong way to document this. You can write it in your journal or in your phone. Whatever is a place that is easy to come back to because this map is something that will evolve with you.
2. Choose Your Trailhead
Your trailhead can be any "trigger" from your real life. This could look like…
The anxious pit in your stomach

Your desire to stop people-pleasing

All the dates you go on are flops
Your trailhead could be an emotion, person, desire, dream, manifestation, decision, part, or sensation in your body. If you can't think of one, go ahead and use whatever came up for you around creating this parts map in the first place as your trailhead.
3. Access Your Inner World
Turn inward in whatever way feels natural to you. This could look like...
Closing your eyes

Shaking your body

Finding a comfortable seat

Holding your breath

Taking a few deep breaths
If your imagination is accessible to you, visualize yourself seated at a round table with empty chairs. If your imagination is not available to you, then allow the parts to come to you in whatever way they choose.
Ask your inner parts for permission to engage with them in a safe and respectful way

Let them know that you're here to understand and help, not to judge or criticize

Invite your parts to the table that want your attention about this trailhead
4. Map Out Your Parts
Let stream-of-consciousness writing fill your page with parts that are related to this trailhead and also the experience of creating the parts map as they come up. With each part, write a short description of it and what it thinks about your trailhead.
5. Reflect on Your Map
As you read through your parts map, what other thoughts come up? Do you have parts that have an opinion about your map? Do you have parts that are not wanting to share something? Do you have parts that feel relieved by seeing this? Or parts that feel anxious about it? Do you have parts that are curious about it? Take a moment to add these parts to the map as well.
6. Discover What Role Your Parts Play
In IFS, there are 3 types of parts:
Managers: When challenging or hurtful things happen in life, you develop a superpower to make sure you never get hurt that way again. These are your managers and they are proactive parts that try to get ahead of anything going wrong so you don't get triggered or hurt. Managers might look like trying to look really good and put together so people think highly of you, being hyper-organized so you never miss a thing, or being super restrictive with food or money.

Firefighters: These are reactive parts that swoop in to extinguish the pain after you are triggered or hurt to try and help you feel better. Firefighters might look like overeating, binge drinking, overspending, or overapologizing.
Both Manager and Firefighter parts are also called Protector Parts because they try to protect you from pain and keep you safe. Even if their strategy ultimately doesn't contribute to your well-being, their intent is positive in trying to keep you safe and alive.
The third type of part in IFS is the part of you that carries and holds the pain:
Exiles: these parts hold the distressing feelings and beliefs (called "burdens" in IFS) and are exiled into the corner of your psyche so that you can continue to live your life, leaving it frozen in the past. Exiles might sound like "I'm not good enough," "I'm a loser," "I always mess things up."
Pick a way to categorize each part on your map as a Manager, Firefighter, Exile, or Not Sure if you're not sure yet where to put it.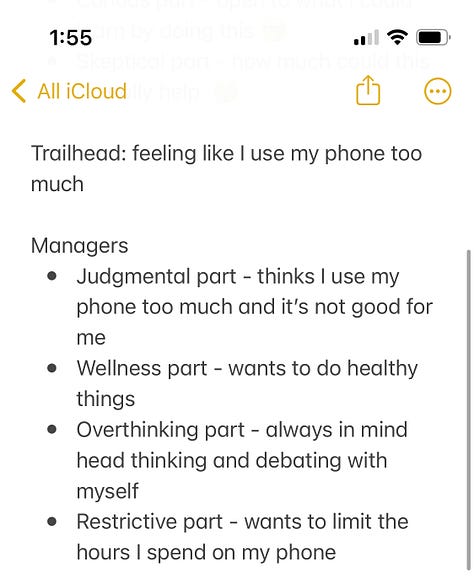 7. You Are Not Your Parts
You are more than the sum of your parts. This means there is an energy about you that is unaltered by the highs and lows of life. This truest essence of you is called "Self" in IFS, but is often described as your highest self, best self, core self, true self, authentic self, wisest self, or inner compass. While parts have an agenda or something they want to achieve or get, Self has no agenda except to facilitate healing and harmony in your inner world. Self is best characterized by certain qualities:
Compassion

Clarity

Calmness

Curiosity

Courage

Connectedness

Creativity

Confidence

Harmony

Healing
If you added any parts to the "Not Sure" category, it could be because it is a part that you need to get to know more about before you know if it's a Firefighter or Manager, it could be a mix of both, or it might be Self. Create a new category for Self on your map, and add anything from your list to the Self category if you feel it embodies Self energy.
Know that you can keep coming up to this map and adding to it over time. It can change and evolve as you do. That being said, it's also helpful to after a few days forget about this map and come back to it later so you can look back and see what's changed and what's stayed the same.
8. Thank Your Parts
If it feels genuine, turn inward and thank your parts for showing up to be with you today. Maybe you imagine seeing all of them sit at the round table with you. Even if you don't like a part of you, see if it's possible to see beyond the behavior you don't like and instead appreciate them for their intent to try and keep you safe and alive. Showing this appreciation to all of your parts, even the ones that are difficult to appreciate is the first step to becoming your own healer. Because it feels good to them to be seen by you for all their effort to try to keep you well. Notice if there are any shifts in your mind or body after extending this appreciation. If you have resistance or busy thoughts come up, that might be another part to add to your map. If you feel a softening, that is your Self energy taking the lead in your system.
9. Integration
The parts map is a powerful tool and it can kick up some dust in your inner world. For this reason, be gentle, take care of yourself, and allow yourself to slow down and ground after doing this work. To integrate from your inner world back into your physical reality, engage in practices that help you feel balanced and grounded. This could look like somatic or mindfulness practices such as:
Havening Technique:

Forehead: Stroke your forehead, from your eyebrows to your hairline, in a soothing and slow manner. Repeat this motion for about 20 seconds.

Both Upper Arms: Stroke both upper arms from your shoulders down to your elbows for about 20 seconds.

Both Palms: Rub your palms together gently for about 20 seconds.

Bilateral Stimulation: Take a small object and pass it back and forth between your hands for 60 seconds or until you feel a shift in your body.

Vagus Nerve Stimulation: Take your index finding and do slow, gentle circles in your inner ear (not ear canal) for 30 seconds, each direction.
Or just doing something you enjoy like:
Going for a walk

Taking a bath or shower

Calling a friend

Hugging a pet
This transition process allows you to carry the insights gained from your inner exploration into your daily life and may bring about a deeper level of self-understanding and compassion for why you are the way you are.
If you have questions about IFS, parts mapping, or simply want to share your experience, send Hadley a DM on Instagram @had.hagen or email hadley@hadleyhagen.com.
Explore Your Inner World
Now that you have your map, it's time to start following the path and discovering the messages your parts hold for you.
This is very different than traditional coaching or therapy which would be focused on changing your behavior and beliefs. In IFS, the intention is not to change your parts but to connect your Self-energy with your parts. From there, you listen to your parts and ask your internal system to show you what it needs to heal. This is why IFS allows you to become your own healer because it's not about the coach or therapist analyzing but about your own Self-energy connecting with your parts and healing through a strengthening of your relationship with you.
To begin exploring your inner world, reflect back on your map, are there any Firefighter or Manager parts that are asking for your attention? Is there one that holds a particularly strong charge or one that captures your attention?
If yes, that is the Part to be with first. Since Firefighters and Managers are built up around protecting Exiles, in IFS we start with the protectors and don't jump into being with the Exile right away.
There are a few ways that I recommend exploring this part:
Work with a Practioner: If you are ready to work with a practitioner to deepen your IFS journey and get the most benefit out of IFS, then I recommend you connect with a certified IFS practitioner. My waitlist is open for 1:1 IFS coaching starting in early 2024 and to get details and join the waitlist send me a DM on Instagram @had.hagen or email hadley@hadleyhagen.com. If you want to explore other practitioners, I recommend you look at IFS Institue or IFS Canada.

Self-Starter: If you are eager to keep exploring your inner world as a solo adventurer, then subscribe and stay tuned as I will continue to share tools and meditations to help guide you on your DIY IFS journey, too.
Thanks for reading Hadley's Substack! Subscribe for free to receive new posts and support my work.